5 Tips to Build a Sustainable Maximalist Wardrobe That Brings You Joy
Over the years, I've tried time and time again to cultivate a capsule wardrobe that looked a lot like the minimalist aesthetic of sustainable fashion on Instagram. This meant neutrals. So many neutrals.
But, it turns out, practicing an ethical lifestyle doesn't mean having to give up what makes you unique. Ethical maximalism means living out the "more is more" principle in a conscious and intentional way. It means hanging on to what's uniquely yours: bright rainbows, blooming florals, and all.
In finding out that you can in fact have a sustainable and maximalist life, I have thought of my long-lost favourite yellow sweater.
Yellow has always reminded me of sunflowers and my mother. Because of this, I wore the sweater everywhere in high school. Once, I even used it for a Halloween costume as Arthur the aardvark.
A few years ago, along with some of my more colourful pieces, I gave it away in the pursuit of minimalism.
Recently, I've learned that we can be intentional and still find comfort and celebration in our closets. We don't have to give up what brings us joy or subscribe to the idea that slow fashion is defined by thin and white bodies.
With that in mind, here are a few tips to help you stay sustainably and authentically you. 
1. Keep stock of the sustainable and maximalist styles that inspire you.
A Pinterest board is your best tool in planning the closet of your dreams. The one you'll get the most use from.
Ah, moodboards—a Virgo's lifeblood. I learn best with visuals. So, seeing a piece of clothing or a photo of an outfit that captures my maximalist style will get my neurons firing. 
A few years ago, I started a Pinterest board called "Dress for the Life You Want" which has helped me become more conscious of my style preferences. Having a reference has helped me to stay consistent and intentional when shopping.
I'm more aware of which patterns I gravitate toward or which pieces I've been eyeing for a while. This is especially helpful when sourcing clothes secondhand from thrift shops or clothes swaps where you never know what you'll find!
If, like me, you're unsure about your personal style, start by finding figures who can inspire your own style, such as icons like Filipina fashion photographer Shaira Luna. Shaira is known for her distinct personal style and enthusiasm for vintage and thrifted fashion which often influences her work in mainstream fashion.
2. Shuffle the pieces in your capsule wardrobe.
A few pieces I've just taken out from storage as Springtime approaches!
A big worry of mine when I first started to declutter and when I first started to shop for my own wardrobe was the question, "where does this all go?"
After all, every second, a truckload of clothing waste is being burned at a landfill. 
Contrary to the Konmari method of letting go of everything that no longer "sparks joy", I would say try to hold onto some pieces and store them away for a while. You just might fall in love with them again in the future.
(A moment of silence for my yellow sweater.)
Hiding away some of my clothing based on the seasons or even, sometimes, on my mood, has been essential in keeping a sense of surprise and joy alive. On that note… 
3. Practice an abundance mindset—find sustainable maximalist fashion brands and systems you can support!
It's time to overwrite the myth that to be eco-friendly, we have to live in the absence of what we love. We can thrive in knowing we have "endless opportunities" to live consciously as maximalists and to support brands that contribute to the community and this planet in their own unique way.
You've got it in you to find creative solutions: redesigning what's already in your closet, buying secondhand, clothing swaps, and rental services like Hack Your Closet.
Of course, there's a lot to be said for thrift culture (and how its popularity has increased pricing for low-income individuals), but the ideas above are significant options to keep our clothing away from the landfill. 
For years, I've shopped primarily at my local Value Village, but when I noticed the prices starting to climb, I went hunting for trusty alternatives: a Plato's Closet, local Etsy shops, or the flea market. 
My friends and I have done clothing swaps a couple of times now, and some of the pieces I've gotten are now a personal staple.
4. Invest in a sustainable and maximalist wardrobe that makes you feel vibrantly, unapologetically you.
This is me, Mikaela, in one of my favorite outfits! It consists of hand-me-downs and thrifted clothes, including a pink sweater that's in constant rotation.
As you can probably tell by now, it took me a long time to figure out that sustainable fashion and living consciously doesn't have to mean giving up color. 
The truth is: the more you love what you wear, the longer you'll want to keep wearing it. Sustainable or slow fashion is all about extending the life of the clothes we wear. Meanwhile, your life's too short to spend it without rejoicing in color and texture!
Personally, other than yellow, I love blue, green, and pink (surprise, surprise). If you're looking to get some ideas for your own color schemes, I suggest looking through the hashtag #WearHappyColor and, of course, the R2R shop.
5. Get adventurous and experiment with maximalist style. 
Unsure about building a capsule wardrobe that deviates from the all-white or all-black norm? Take the time to find out which clothes you're more inclined to wear and how you can mix-and-match.
Recently, YouTuber Leena Norms tried curating a 30-day capsule wardrobe from her existing closet.
She started by identifying silhouettes, textures, and patterns in her closet. She kept in mind each item's different styling options, situations where she might wear each piece, and matching sets.
At the end of her 30-day experiment, she was better informed about the items she wears most of all and what works best for her! Knowing all this comes from experience and experimentation.
When it comes down to it, we have to be ourselves. Choosing sustainable joy is all the more radical for those of us who straddle the intersections of being BIPOC, diasporic, and queer. 
I may never see that yellow sweater again, but I can do my past self some justice and wear what makes me happy knowing I can be conscious, comfortable, and colorful.
Are you building a sustainable and maximalist wardrobe that brings you joy?
Check out R2R On Repeat,
our clothing collection designed for world-changing women and proud outfit repeaters weaving joyful stories every day.
---
Mikaela Lucido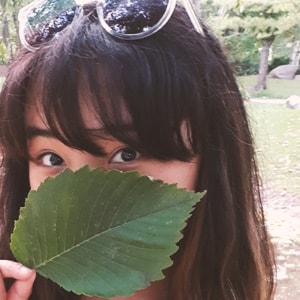 Mikaela Lucido was born in Manila, Philippines and lives in Mississauga. She studied Creative Writing & Publishing at Sheridan College. Her work has been featured in Savant-Garde Literary Magazine, post ghost press, Gothic Tales of Haunted Futures, and Augur Magazine. She is a first reader for Savant-Garde Literary Magazine. Find her on Twitter (@LucidoMikaela) where she is often live-tweeting about Taylor Swift, superheroes, or mental health.