6 Asian-Owned Sustainable Fashion Brands To Explore Your Unique Style
How would you describe your personal style—preppy or edgy, laidback or glamorous, eclectic or minimalist? Whatever way your wardrobe looks, the time's never been better to explore your aesthetic while also supporting Asian-owned sustainable fashion brands.
That's exciting news, personally, because I as a Filipina wasn't always confident in my fashion choices or options. Growing up, I felt that the beauty ideals published in glossy magazines never reflected me. I felt too short. Too Asian.
Now in my twenties, I've focused on making more ethical fashion choices. But I realized there was a similar misconception: to participate in sustainable fashion, you need to have a certain body: White and slim. 
That's simply not true. I now know there are plenty of BIPOC women thriving in sustainable fashion. It gives me hope that there are plenty of Asian-owned brands we can support and build an ethical wardrobe with. Let me start you off with just a few.
Rags2Riches
(that's us!): Maximalist Outfits To Wear Everyday
In 2007, Reese Fernandez-Ruiz co-founded Rags2Riches (R2R) with the conviction that "style and sustainability can co-exist.". R2R forwards ethical fashion in the Philippines by working with Filipino artisans across the country and upcycling excess fabrics from local factories.
The eco-ethical fashion and design house started with bags, and has since expanded to home accessories and clothing. Across the different categories, every design features some form of Filipino craftsmanship, oftentimes hand-weaving, to support local talent.
Rags2Riches is all about ongoing empowerment. Their ultimate goal is to create a long-lasting legacy of positive change and "not contribute to the waste of fast fashion." That's why the R2R On Repeat clothing line was conceived to be versatile and multi-wear for life's many occasions, without sacrificing color and joy.
R2R wants to make sure the mark we leave on the world is one of love and compassion for each other and the planet. Not only is R2R Asian-owned; they go against the narrative that to be successful as a sustainable fashion brand, you need to be from the West. Instead, R2R is proudly based in the Philippines and run by homegrown talent, showing the world what it means to be Filipino-owned.
If these are values that resonate with you, R2R On Repeat offers clothing you can style in many different ways. Infuse cheer into every day with the Lukso Wrap Jumpsuit that dresses up or down with the cinch of a sash.
Milo + Nicki
: Resort Wear To Travel The World With Flair
Milo + Nicki is named after the powerful and life-changing connection between founder Nicki Patel and her labrador Milo. Born out of abundant joy, the brand is all about empowering women and inspiring life-long wellness through sustainable fashion. Nicki decided her clothing would be a reflection of what it means to "look, feel, and do good."
The brand brightens the world with its eco-conscious resort wear. Its colorful prints and flowy silhouettes reflect the beauty of natural landscapes. When you order from them online, you can expect plastic-free packaging. This is how we're called to explore the world and protect it too.
Milo + Nicki's commitment to do better by the planet is woven into the fabric of their work. Literally.  They use organic cotton and linen, and were one of the first to experiment with banana fiber, a material that is biodegradable and long-lasting. Nicki also sources fabric from India to honor her ancestral roots.
Whatever they use that is made in India is made in partnership with MasterG which empowers "women from low-income communities" through fashion design and production.
From their collections, "the Orange Your Ready For Summer" midi dress seems to be the perfect travel staple. It's practically four looks (or more!) in one garment. Mix and match—the skirt is removable! Then flaunt what you've got with just the blouse which you can wear as a v-neck or square neck, on- or off- shoulder!
Back Beat Co.
: Streetwear For A Laid-Back Life
Back Beat Co. CEO and founder Isadora Alvarez grew up in the Philippines with a love for the outdoors. At 23, she moved to the United States to pursue fashion. Early on, she noticed that the fashion landscape around her favored a certain look. You know the one, "a brown shapeless tunic" that some may consider the style equivalent of granola. 
Isadora wanted her clothing to reflect her values: accessible and sustainable.
In that sense, Back Beat Co. is all about keeping its community laid-back and connected to nature. Inspired by California's vintage skate and surf culture, the brand designs high-comfort streetwear with a low impact on the environment.
Big fans of organic cotton and hemp, their fabric is recycled or sustainably farmed. Like Milo + Nicki, their operations stay green with recycled and compostable packaging. 
Check out Back Beat Co.'s Work Wear mini-collection that'll keep you comfortable all-day at the skate park or your co-working space. Whatever you choose in their collections, you'll always look Cali-cool.
Kestan
: Professional Looks For Less Effort
Run by siblings Stephanie and Kevin Lin, Kestan is a sustainable fashion boutique where you can shop a chic and timeless outfit from head-to-toe. Kestan's clothing, in particular, is an extension of Stephanie herself, who considers the design process deeply personal. 
Informed by past experience working for Diane von Furstenberg and Armani Exchange, Stephanie designs for a "new generation of working women." In an interview with Lux & Concord, she shares, "Everyone's 9 to 5 is different, but the idea of putting your best foot forward is a common thread regardless of your industry."
With Kestan, Stephanie also believes that true beauty in fashion must be reflected in how and where the items are made. Made locally in Los Angeles, California, the brand uses organic cotton, Tencel, and deadstock fabrics to craft their capsule collections. They use "sweatshop-free factories", prioritize living wages, and strive to ensure the overall well-being of their team.
To Stephanie, the world of fashion is slowly but surely becoming more ethical. "It's not just about glamour, it's a lifestyle change."
The next time you need a classic dress shirt and tailored work pants, consider Kestan.
Runaway Bicycle
: Timeless Classics Made Soft & Dreamy
Runaway Bicycle plays by different fashion rules. The design studio, located in Mumbai, aims for "goodness in every sense of the word." Every garment they make is understated, modestly designed, yet still undeniably beautiful in the way it drapes and moves on the body.
Founder Preeti Verma is interested "to wear what feels effortless and free." It makes perfect sense that Runaway Bicycle's linen dresses have been named as some of the breeziest in the game.
The bedrock of their design philosophy is the idea that the most comfortable clothing that exists is worn by children and those engaged in physical labour—in their words, "the clothes our parents wore." To them, comfort is more important than form. Runaway Bicycle achieves this through high-quality craftsmanship.
To produce each garment, the studio collaborates with local artisans preserving traditional weaving and dyeing techniques. Runaway Bicycle is timeless in style and in quality precisely because of its hand loomed fabrics and enduring silhouettes.
Feel every bit as classic, romantic, and dreamy as you look in a dress, skirt, or blouse from Runaway Bicycle's Eastern Rays Collection.
Dear Samfu
: Co-Ord Sets Grandma Would Be Proud Of
The Samfu (Cantonese for 衫裤 shan-ku) is a practical and nostalgic silhouette—a matching set of boxy blouse and pants—that was popularized in the 1950s and 60s. Its light and loose nature made it perfect for any occasion.
Inspired by the quintessential Singaporean grandma's style, Trixie Chua founded Dear Samfu to bring slow fashion back into our lives. After Trixie's grandmother showed off her wardrobe, Trixie was convinced that "it was sustainable fashion at its best." 
Keeping a close eye on sustainable materials and ethical labor, Dear Samfu works with Thai partners to use overstock fabrics and has also partnered with a family-run factory. 
Boasting an array of pastels and patterns, step back in time with a "Grandpa's gingham" top or "Grandma's garden" crop top.
These are but a few of the sustainable and proudly Asian-owned brands clothing the world. And I've only just begun seeking them out!
Like Isadora Alvarez, my idea of ethical fashion once inspired as much delight as a granola bar, but in diving into these stories, I now know there's a whole vivid buffet for us to explore. 
We can all engage with slow fashion in some way.
Each of our style journeys are unique in their own right. We of Asian descent are not only a part of the sustainable fashion revolution, but a huge one at that. Our upbringing, background, and values not only belong to the ethical fashion discussion, but often drive it. 
Did you find your style soulmate in these Asian-owned sustainable fashion brands?
Subscribe to our newsletter
for more tips and offers to help you build your joyful capsule wardrobe!
---
Mikaela Lucido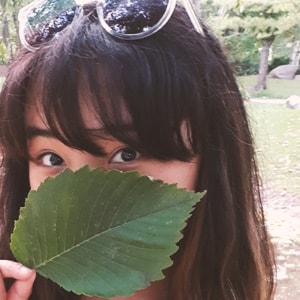 Mikaela Lucido was born in Manila, Philippines and lives in Mississauga. She studied Creative Writing & Publishing at Sheridan College. Her work has been featured in Savant-Garde Literary Magazine, post ghost press, Gothic Tales of Haunted Futures, and Augur Magazine. She is a first reader for Savant-Garde Literary Magazine. Find her on Twitter (@LucidoMikaela) where she is often live-tweeting about Taylor Swift, superheroes, or mental health.