An Afternoon With The Rags2Riches Artisans In The Philippines
This blog post was originally published on Cambio & Co., our official partner in North America. They spent an afternoon at our workshop and met some of the artisans who craft our signature R2R weave. Read this powerful recap of their journey.
Rags2Riches was one of the first businesses that really inspired us. In those early days of Cambio when we didn't know much about retail, about social enterprise, or about the complexities of poverty in the Philippines - we knew Rags2Riches.
So when our car pulled up to the R2R headquarters in Quezon City, I felt my stomach do a nervous flip. We, like many young entrepreneurs, looked up to R2R for their empowering form of storytelling, their fun and colourful work culture, and their ability to succeed where so many had failed. To be standing here, in front of R2R's iconic pink walls, was a humbling and exciting feeling.

For Cambio, we always visit our communities and meet our partners in person. Not only is it our due diligence to verify the working conditions of our makers, but we love putting a face to the names signed on each of our pieces. A powerful statement saying, "I made this. I made your piece."

We rang the doorbell, a literal bell with a string you pulled. It looked small and quiet, but it made a sound so loud it surprised you, a sound that resonated. I like to think that little bell could be a metaphor for just how impactful R2R is.

The gate opened to a man with a friendly face and a generous smile. He was dressed simply, and I could tell he was one of R2R's artisans. He welcomed us in and invited us to meet Ate Cynthia, R2R's Community Enterprise Manager, upstairs.

The Rags2Riches office
The Rags2Riches office is an old house the team converted into their headquarters. It's full, with every corner put to use, but it has a feeling of spaciousness. Downstairs is the R2R workshop, with sixteen workers crafting various R2R pieces.

Upstairs, you'll find a communal office space housing their lean but effective design and operations teams, along with their showroom, an open and airy space usually filled with R2R's joyfully woven pieces.

The day we went, however, the showroom was practically empty. The team had just finished a four-day sales event at Artefino and ended up selling 80% of all their inventory. This goes to show just how high in demand their pieces are. And also says much about how lean the team operates.

We hear excited cries, and Reese Fernandez-Ruiz, R2R's CEO comes running up the stairs. Ate Cynthia tells her to go sit down and catch her breath first.

"Ate Cyn knows me so well. She knows I'm always out of breath after running up these stairs!" Reese laughs.

We all head to a small room with a powerpoint set up on a laptop. The team conducts a community orientation before every community visit to ensure visitors are aware and understand what's expected of them.

The guidelines are straightforward (no photos of children without consent of the parents, no poverty porn, etc.). It all makes sense. But the very fact they have to conduct these orientations makes me cringe to think of the mishaps that must have happened before.

"We've had people in the past asking our artisans to pose next to garbage piles," Reese says to our team's shocked faces. "That's why we make it clear that we don't accept any poverty porn here. Our artisans are very empowered. They're very outspoken and entrepreneurial, so we want to document them that way."

Reese explained the history of the company. Rags2Riches has been operating for the last 11 years. They've trained over 1000 artisans and have expanded into 9 communities across Metro Manila. Every year, they offer financial literacy modules, values formation, and continuous mentorship and training to their artisans.

"Our way of scaling looks very different," Reese says. "We scale and then go deep because we want to ensure people are impacted for life."

And it shows. Every person we spoke to has been with Rags2Riches for at least five years.

Ate Cynthia was there since the very beginning. She was one of the first artisans R2R employed from the Payatas community. Eleven years later, she is one of R2R's senior leaders responsible for community development and purchasing. We watched her elegantly switch back and forth between running production in the workshops, liaising with our photography team, and managing the completed deliveries from R2R's community coordinators.

Ate Cynthia
THE RAGS2RICHES WORKSHOP
Ate Cynthia gave us a tour of the R2R team's workshop facilities. There are sixteen bagmakers, all of whom are regular, full-time employees with medical benefits. The workshop is modest, but buzzing with energy. It is here that the completed woven fabrics are brought in from the communities, and are then crafted into bags - cut, sewn, and finished.

Bag makers at Rags2Riches workshop

I watched in amazement as pieces of varying levels of progress flew back and forth. Though everyone was concentrated and hard at work, there was an atmosphere of joy and lightness in the air. Occasionally people would look up and give us a shy smile, or a joke would emerge between the artisans and they'd share a laugh.

I loved watching the process, and recognized several familiar faces from R2R's Instagram account.

There was a small team of embroiderers, a couple of workers adding the zippers and finishings, and a team of sewers. One of the artisans explained to me how the lining was added to the Buslo Hobo bags, sewn in carefully by the workers. Even the leather straps are coloured in by hand to match the rest of the leather.

Kuya Joel, one of the embroiderers, shared with me how he was actually from one of the communities in Caloocan and began working at R2R as a handyman, helping to fix things around the office. Eventually, he was hired within the workshop, and is now one of R2R's inventory officers and hand-embroiderers.
AN INTIMATE CAR RIDE TO CALOOCAN
We all climbed into the van we had rented for the day to transport us to the Hulma community in Camarin Caloocan City.

The Hulma community started in 2009. There are currently only 10 active artisans here, but they are one of R2R's most productive and engaged communities. Many of them have even set up a group business together, distributing and selling rice to their neighbourhood. R2R helped train them on how to set up their business, so the artisans could receive additional income outside of weaving for R2R.
On the way there, Reese and I sat in the back of the van and chatted about R2R's journey and the ups and downs of the business.

"2016 was the hardest year of my life. I don't remember anything from it, except just crying a lot," she admits.

2016 was a difficult year for many businesses in the Philippines. Rags2Riches had to go through a downsizing, which was extremely depressing.

"How were you able to maintain R2R's positive culture during such a hard period like that?" I asked.

"Honestly, it was the culture that saved me, not the other way around." She said. "I think our artisans are just naturally positive and resilient and happy. Don't get me wrong, there was a lot of sadness during that time at R2R, but there were still moments of joy and laughter. That's what made me realize the importance of company culture."

What Rags2Riches does well, I realize, is find the right people with the right mindset. Then they get out of their way and allow them to live and grow within their own space. I vowed to do the same thing for us at Cambio.

"One thing I also realize is the importance of grit and toughness and perseverance. There are many people who have come to us in the past eleven years saying they want to carry our products, but the moment there's a hiccup, they give up."

I couldn't help but agree with Reese. Developing grit and resilience has definitely been the theme of Jerome and mine's lives the last three years. If we had known how hard this business would be at the start, I'm not sure we would have agreed to do it. But three years later, here we are, making it work. And a lot more thick-skinned than we were when we started.

"One of the things I am most proud of is that most of our customers are Filipinos. The 'imported is better' mindset is hard to get past for many of us, so the fact they choose us and love us is really important," Reese says. "It's nice to be loved by your country."
THE WEAVERS
Our driver fought through awful traffic that morning, racing against clouds that looked plump and ready to drop all the rain they were holding. He finally pulled over to the side and parked on a small street filled with tricycles and street stalls. There were kids in school uniforms, munching on their favourite street snacks that they had stopped and purchased along the way.
We walked through a side street and tried to avoid the potholes in the middle of the ground. It was a far cry from the lavish and pristine cluster of high-rise buildings and fancy hotels that surrounded Makati, Manila's business district and home to the affluent. No matter how much we travel, the stark difference between the haves and have-nots will always make my stomach churn.

Being introduced to Kuya Ricky with Reese Fernandez-Luiz

The path becomes more narrow and eventually is no longer concrete, but earth. We are led into someone's home, where there are about nine artisans all clad in pristine, bright blue Rags2Riches t-shirts. We'll later find out that R2R never commissioned the artisans to wear those shirts - the community just decided to make them on their own.

We did a round of introductions and I immediately felt at home. The artisans were funny and sweet and would tease each other relentlessly. They complimented my awful Tagalog (an immediate way to my heart) and began showing us how they make their weaves.


The fabrics are actually woven in R2R's various communities, and then the finished fabrics are brought back to R2R's office in Quezon City where the workshop team adds the structures, linings, embroidery, and actually transforms the fabrics into bags.

Kuya Ricky is the Coordinator and Leader for the Hulma community. He's in charge of allocating work, organizing community meetings, providing mentorship and training, and delivering the weaves to Quezon City once they are complete.

The women tease him that he no longer knows how to weave, but he proves them wrong by skillfully setting up a weave with his dexterous hands. This doesn't stop the women from teasing him though.
In general, they weave from home so they can watch over their children and perform house duties. R2R doesn't dictate how many hours they should work. Instead, the artisans communicate to Kuya Ricky how many hours they can commit per day, and R2R bases their order capacity on these availabilities. It's a method the team developed years ago to ensure systems and processes are designed around the situations of the artisans, not the other way around.

"I love being able to work from home and spending time with my kids," one of the artisans, Ate Mariss, tells us. She had actually worked admin in an office for a few years, and then as a sewer in a garment factory before R2R. But she hated the long commutes (in Manila, it's normal for people to commute 2-3 hours one way each day) and the low pay. With Rags2Riches, she could stay within her own community and manage the home while still earning a good income.


I loved watching the weavers work. It's one thing to see the words 'handcrafted' on a label, and it's another to see it with your own eyes. It was the first time it really came alive to me that our bags were actually made with nothing but some thread, a wooden frame, and hands - hands that had seen far more than I can communicate on these pages.
GOODBYES
We returned to the van in a hurry, hoping to make it back to the city before the rain started. When we got back to the R2R office, there was a moment where I got to chat alone with Kuya Joel and Ate Myra, R2R's small team of embroiderers.

Me with Ate Myra

Kuya Joel asked me about what our business was like. "Do people really like our products in Canada?" he asked me curiously.

I responded in my Taglish. "Opo! Talaga." (Yes. Really.) "You know what's amazing? They see a bag from Rags2Riches and think, 'wow this is a beautiful bag!' and then they realize it's made in the Philippines, and they're surprised. Then the bag becomes more than just a beautiful thing. It becomes something they can be proud of. It makes them proud to be Filipino, it makes them proud of their fellow Filipinos, and of their country. That's what your bags represent for them. That's what you are helping to do for us abroad."

I began to tear up because I felt so thankful and proud in that very moment. And I think Kuya Joel and Ate Myra felt it, too. We all soaked in the silence.

"Thank you for sharing what we do," Kuya Joel finally said. "It's important to appreciate one's craft."
Photos by Gerald Gloton @chowderglotty 
---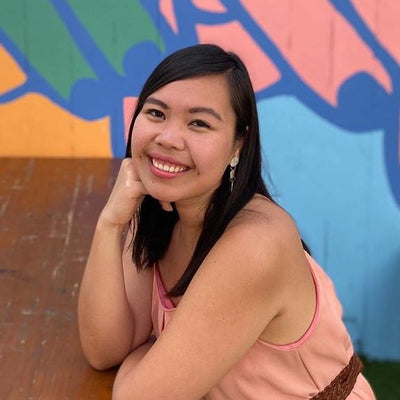 Gelaine is a social entrepreneur, an online storyteller, and a passionate advocate for diversity and ethics in business. She's the co-founder of Cambio & Co., an e-commerce fashion company working with Filipino artisans to celebrate Filipino craftsmanship, culture, and heritage. Gelaine is also one of the founders of Sinta & Co., the world's first conscious Filipino wedding boutique. She was named one of RBC's Top 25 Canadian Immigrants of 2019. Find her on Instagram @gelainesantiago and www.gelainesantiago.com