How Reese Fernandez-Ruiz Built Rags2Riches Into A Leading Eco-Ethical Fashion Brand
This blog post was originally published on Cambio & Co., a Filipino jewelry company in Canada and the USA that empowers Filipinos in the diaspora to Wear Your Heritage. Cambio & Co. is also our official partner in North America.

Years ago w
hen we first began our journey 
to understand 
the social impact sector in the Philippines
,
 there was
 one brand 
that 
stood out to us right away: 
Rags2Riches and its co-founder Reese Fernandez-Ruiz
. 
Rags2Riches (also known as R2R) is an ecofriendly, ethical fashion brand that provides sustainable employment to artisans in Metro Manila. Every R2R piece is handwoven by artisans using overstock, upcycled cloths and indigenous fabrics that would otherwise end up in the landfill, so every purchase empowers the person who made it while creating positive environmental impact. Founded in 2007, they were one of the earliest brands to meld fashion, beautiful design, strong ethics, and sustainability and have since inspired generations of younger Filipino entrepreneurs to follow in their footsteps.  

Rags2Riches creates beautiful and high quality fashion accessories that empower Filipino artisans.
Meeting Reese in person is like Rags2Riches' Instagram feed come to life. She's colourful and bubbly, emanating joy and positivity. But you can tell immediately that she means business, articulately diving deep into R2R's social impact and mission with conviction. It's no wonder R2R has grown to become one of the Philippines' most celebrated ethical fashion brands, and has also received recognition internationally.  
We sat down with Reese to learn more about her journey building Rags2Riches and what she's learned along the way. 
1. FIRST, TELL US A LITTLE ABOUT YOURSELF. WHO IS REESE FERNANDEZ-RUIZ AND WHAT DRIVES YOU?
I am a mom, wife, social entrepreneur, artist, and proponent of design for social change. The theme of my life has always been about "opening doors" or providing opportunities.
I have realised from a very early age that any kind of injustice or oppression deeply disturbs me. Instead of allowing this disturbance to make me feel helpless or angry, I decided (and still decide, every single day) to use it to guide my life and decisions in order to, in my own little ways, create opportunities for others. I believe that oppression can be countered by opportunities.   
2.  RAGS2RICHES HAS RECEIVED A LOT OF RECOGNITION, BOTH WITHIN THE PHILIPPINES AND ABROAD. YOU WERE EVEN
A SPEAKER AT THE 2018 WORLD ECONOMIC FORUM

ALONGSIDE

ALIBABA'S

 

FOUNDER JACK MA! TO THE OUTSIDE WORLD, IT LOOKS LIKE YOU'VE "MADE IT". WHAT DO YOU THINK ABOUT THAT?

Rags2Riches is committed to joyfully weaving stories and bringing people together to empower artisans in the Philippines.
I am definitely and absolutely grateful for all the recognition and opportunities that we are given because of the recognitions! But yes, all these spotlights make us look like we have made it when in reality we are still getting there.  
When I was a lot younger, I used to equate awards with achievements too, and for many, this remains part of the paradigm. But because I am a bit older and have been through quite a lot of ups and downs in my work in R2R, I guess I'm more grounded. I now know that real success unfolds before you and extends to the long term.
Real success is about creating reliable and sustainable opportunities for those who need them the most.
The results of such opportunities are not immediate, but they tend to unfold in years, decades, and even generations. We are so accustomed to immediate gratification and seeing immediate results that it seems like awards and recognitions (things that are concrete and Instagrammable) are already achievements and hallmarks of success. This kind of thinking could lead us to the wrong direction and decisions.  
 This is why while I am really grateful for all the awards, I remind myself every single day that we have not yet arrived and the journey continues even after the spotlights are out.  

Reese Fernandez-Ruiz speaking at the World Economic Forum 
3. YOU'VE BEEN RUNNING RAGS2RICHES FOR A LONG TIME (SINCE 2007, I BELIEVE), WITH LOTS OF UPS AND DOWNS. WHAT HAS KEPT YOU GOING
 

AND THRIVING

 

WHERE OTHER BUSINESSES HAVE FAILED?

It has been 10 years indeed! And that is definitely true, we have been through a LOT of ups and downs! I like this quote (I just can't remember who said it) about not giving up at the point where everyone else would have, and realising the great things on the other side that everyone else will not get to see because they have already given up.  
We have gone through a lot of those points in the past 10 years for sure. And don't get me wrong, I am not some superwoman, independent, super resilient person with unlimited amounts of optimism.
There were definitely times that are more difficult than most when I considered just quitting. But "considering" is not "doing". And what made me stay on this side of the line are the people (my husband, our team, artisans) who would not give up either and the principles that started this in the first place.
I am so fortunate to be journeying alongside people who believe in our advocacy and the importance of what we are doing. They remind me of our Why during the times when it gets covered under all the challenges we go through.  

The Estelle Mini Clutch, handwoven from overstock, upcycled fabrics and indigenous materials.
4. WHEN WE VISITED YOUR OFFICE
 

IN MANILA, EVERYONE WE MET WAS SO WELCOMING AND SEEMED GENUINELY EXCITED ABOUT THEIR WORK. HOW HAVE YOU BUILT SUCH A STRONG AND PASSIONATE TEAM AROUND YOU? 

Thank you! That means a lot! We have tried to build this culture of joyfulness over the past few years. It was not just me, it is really the team that our advocacy was able to attract. We built our culture code together and supported each other in implementing this in our daily lives. As an example, we started doing our "round of thankfulness" a few years ago because one of our values is being grateful. We do this round of thankfulness before every meeting where people get to share a simple thing they are grateful for that day / week. It sets the tone for the meetings and it reminds us of the values that are important to us.  

Company culture is very important to me personally as well. I believe that when things get difficult and challenges happen, a strong culture could turn around a problem into an opportunity and will help a company grow stronger instead of crumble under the weight of challenges.   

Rags2Riches is committed to creating a positive environmental impact in addition to providing sustainable livelihood to artisans. That's why every piece is crafted from responsible materials.
5. IF YOU ACCOMPLISHED EVERYTHING YOU SET OUT TO DO WITH R2R, WHAT WOULD YOUR IMPACT LOOK LIKE ON YOUR ARTISANS, YOUR EMPLOYEES, AND CONSUMERS IN GENERAL?
First, for artisans, we hope that they can see R2R as a reliable life and livelihood partner that has the potential to help them uplift themselves and families. For those who are born and raised in poverty, it is not easy to see reliable opportunities and partners around them. The options seem few and the possibilities are not as reachable.
For us, the real impact of R2R is not just in the additional income we can provide or even just the livelihood. The real impact of R2R is in its reliability and consistency as an inclusive social enterprise that artisans (or aspiring artisans) can consider as an attainable partner in poverty alleviation and nation building.  
For our team and employees, R2R is not just a job, it is their mark on the world. Our goal is to build R2R as a joyful, compassionate, and excellent place where people work for a shared purpose.  
And for our advocates (or consumers), R2R hopes to be a meaningful lifestyle partner. I know a lot of people are getting more concerned about the impact of their lifestyles on the planet and on others but they only have a few options around that they could support or advocate for. We hope to be one of their options, but also to be one of many in the future.  

Reese with the Buslo Hobo Bag, one of Rags2Riches' classic and bestselling pieces.
6. YOU RECENTLY LAUNCHED A SECOND
BRAND, THINGS THAT MATTER, WHICH BRINGS TOGETHER SOCIALLY CONSCIOUS BRANDS FROM ACROSS THE PHILIPPINES ONTO ONE PLATFORM. WHAT SPARKED THIS IDEA, AND WHY NOW?
For the past 10 years we have learned so much and gathered advocates who love our brand. We thought that we should celebrate our 10th year anniversary by scaling our impact for the future rather than just celebrating the past (we did that too of course!). Things That Matter is a joyful marketplace that creates positive impact and inspires an intentional lifestyle. It is our way of sharing our lessons to more social entrepreneurs and meaningful brands as well as share their stories and products to our advocates.  
7. WHAT'S THE BEST ADVICE YOU'VE RECEIVED ON YOUR JOURNEY THAT YOU CONTINUE TO IMPLEMENT TO THIS DAY? 
There are quite a lot! Some of my favorites:  
"Always show up"  
"When you grow your business, grow strong, not fat" - paraphrased from a "How I built This" podcast interviewing Patagonia founder Yvon Chouinard 

Reese Fernandez-Ruiz with Rags2Riches' Community Enterprise Manager, Cynthia Cabrera (right). Every week, Rags2Riches offers weaving workshops with their community artisans in Manila

8. YOU'VE TRAVELLED TO A LOT OF DIFFERENT COUNTRIES. HOW HAVE YOUR TRAVELS INFLUENCED YOUR PERCEPTIONS AND UNDERSTANDING OF THE PHILIPPINES AND BEING FILIPINA? 
Traveling to different countries has made me appreciate our country and journey as a country even more. It is easy to compare our country to others and lament about our traffic, public transportation system (or lack of), politics, business environment, etc. But what is harder to do is to dig deeper into our history and context to see the reasons why we have challenges and to see that despite all these, we have amazing gifts.   

Outside the Rags2Riches headquarters where we first met Reese in 2017.
We are so unique as a country and people and we don't usually realise that we have been through a lot and we haven't gotten a real break yet. We have gone from one coloniser to another and one major crisis to another.
We are wounded but wonderful, renegade and resilient, challenged (in so many ways) but still compassionate. I don't know how our story will sound like decades from now, but I am committed to being one of those who will write it so that it inspires others in the future.  
9. WHAT'S SOMETHING YOU WISH MORE PEOPLE KNEW ABOUT THE PHILIPPINES?
Oooh, lots! We are such a young country with a lot of potential to be shaped into a great one. So look beyond the facade and see the possibilities! This country is a great place to start enterprises, creative industries, and movements.
---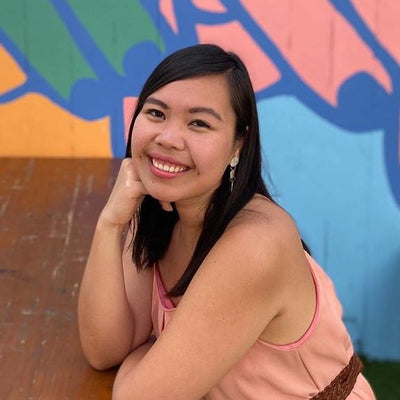 Gelaine is a social entrepreneur, an online storyteller, and a passionate advocate for diversity and ethics in business. She's the co-founder of Cambio & Co., an e-commerce fashion company working with Filipino artisans to celebrate Filipino craftsmanship, culture, and heritage. Gelaine is also one of the founders of Sinta & Co., the world's first conscious Filipino wedding boutique. She was named one of RBC's Top 25 Canadian Immigrants of 2019. Find her on Instagram @gelainesantiago and www.gelainesantiago.com