How To Trust Your Inner Voice And Build A Colorful Capsule Wardrobe You Love
As I've tried to build a colorful capsule wardrobe, I remember a tweet from a while back: "Don't let people sell your personality to you. Let your personality dictate your aesthetic." To quit fast fashion and its ever-changing cycle of trends, we need to develop a strong sense of personal style.
In a world where we're constantly bombarded with the call to consume, and often at the cost of workers' safety and environmental integrity, sustainable maximalism allows us to switch things up—in every sense of the phrase.
So how do we find our maximalist fashion style? By staying true  to our voice, community, and planet. 
What
is
sustainable maximalism in fashion? 
A principle at the core of maximalism, as we're probably familiar with it, is "more is more". It encourages us to explore and push against our creative limits. There's a draw towards vivid colors, bold patterns, and grand silhouettes. Think: feather boas, sequins, tutus, and animal prints.
More than an aesthetic, sustainable maximalism is about purposeful abundance. This doesn't mean being overindulgent, but holding onto the joy of dressing up while being aware of the vastness of opportunities to support conscious brands. Similar to ethical minimalism, there's a desire to be mindful and intentional about the source of our clothing and the amount of it we own.
The intentionality is what makes the difference between refreshing your wardrobe and simply collecting without purpose.
Sustainable maximalism also celebrates individuality in an inclusive way. It lets us reimagine what's possible with what's already in our closets. There's no need to strain our budget on a whole new set of clothes.
The minimalism movement is about reducing clutter by a process of removal. But maximalism lets us revamp old clothes. Minimalism emphasizes a detachment to material possessions, but maximalism allows us to collect and revel in our sentimental items.
It's this mindset that's allowed me to revisit the bright hair accessories of my childhood or old scarves and handkerchiefs. (Yes, it's okay to have knick-knacks!)
Owning
our maximalist fashion style means expressing who we are every day, without apology (and not being afraid of color).
Being unapologetically ourselves means being bold about our values. For many sustainable maximalists, this means draping ourselves in the colors and patterns we love, celebrating the stories of how our clothes were made, and fearlessly repeating those pieces.
Rags2Riches—that's us!—recently collaborated with personal stylist Yateh Larchie who says that if you wear loud pieces you've got to be mentally prepared for people to notice how often you wear something like a pair of red pants.
Case in point, I just bought a swan crop top from Thief & Bandit. Over the years, my mom's called me her swan and vice versa. It's a symbol that will never be "out of style" for me because it will always mean something… which is probably why I've worn it a handful of times already. 
But it doesn't have to hold that much meaning for it to be consistently you. I like striped and heart-shaped prints for no other reason than that they make me feel like me.
To seamlessly repurpose and incorporate the old with the new in our wardrobe, we need a clear idea of what designs we feel are true to us. My advice: go all out on your Pinterest board!
Having a maximalist capsule wardrobe means going seasonless.
On average, an American throws away 81 pounds of clothing annually. When we gravitate towards what helps us feel good all the time, not what looks good at the time, we resist fast fashion.
Around 2015, I moved away from home for the first time. With this freedom, I would buy maroon and green pieces purely because they were what was "in."
This palette used to matter so much to me (but not for the right reason):
As you can imagine, I hardly wear those pieces now because they weren't really "me." I only thought it would help me fit in during that particular season.
But thinking about longevity goes beyond color. Of course! How many bags or shirts do we really need, anyway?
Growing up, my mom and aunt would advise me to buy what was durable. My mom especially would emphasize quality over quantity. But often, for little old me, durability wasn't as pretty.
But… she was right. When we find pieces that are high-quality, durable, versatile, and make us feel comfortable, we're more likely to hold onto them because they're timeless. 
In high school, I bought a cheap varsity jacket from Old Navy because it was trendy at the time. I wore it for maybe six months and after only a few washes, it looked worn. I kept it in my closet, untouched, for years.
Meanwhile, whether it's Spring or Fall, I still don a yellow jacket that I thrifted because it makes me feel like myself no matter what I pair it with. It's gotten me through rain, snow, and heartbreak.
Ultimately, trusting our sense of style means throwing out the rulebook. 
When we build a wardrobe that brings us joy, we're more likely to find and fall for new combinations! I find myself mixing and matching my thrifted yellow jacket and heart dress all the time.
And I get it. It can be a little daunting to think about, but the potent possibility in sustainable maximalism is what makes it exciting!
The rules can feel so constricting. I used to be so self-conscious about wearing horizontal stripes when "vertical stripes make you look thinner and taller." As a round and short Brown woman, it sometimes felt like I was breaking the law every time I threw on yet another horizontal striped shirt. (I promise I know more patterns than this now, Mom.)
The truth is I only ever felt like myself with horizontal patterns. So I've abandoned that rule. I know my own body better than anyone else and I'm learning to embrace it.
It's not easy. I still have days where I feel the need to shrink myself. But that's the thing. We need to ask ourselves who is dictating these rules? Who holds the power? Who has pushed us to accept these lies about our bodies? 
We shouldn't wait for someone to tell us when our culture is acceptable.
When we wear loud colours and vibrant patterns, we are celebrating our cultures and ancestors. We are celebrating ourselves.
One of my favourite things to hear is "That dress/color/bag just screams you."
Clearly, it takes time to discover who you are, much less what your style is. We're always evolving. But the effort is worth it. More than anything, discovering what you love to wear is a by-product of staying on a path of authenticity and self-love.
Find what screams and sings and belts just you. And flaunt it.
Are you ready to embrace your maximalist style and build your colorful capsule wardrobe?
Subscribe to our newsletter for more stories on sustainable maximalism, capsule wardrobes, and weaving joy into your story.
---
Mikaela Lucido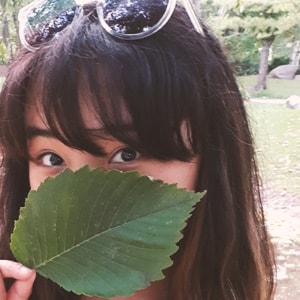 Mikaela Lucido was born in Manila, Philippines and lives in Mississauga. She studied Creative Writing & Publishing at Sheridan College. Her work has been featured in Savant-Garde Literary Magazine, post ghost press, Gothic Tales of Haunted Futures, and Augur Magazine. She is a first reader for Savant-Garde Literary Magazine. Find her on Twitter (@LucidoMikaela) where she is often live-tweeting about Taylor Swift, superheroes, or mental health.