What Sustainable Fashion Taught Me About Sewing and Feminism
I used to subscribe to the myth that participating in sustainable and ethical fashion meant existing purely in neutral colours. Misguided by this idea, I let go of my beloved floral skirts after high school.
But things are different now. Sustainable fashion is bursting with colors, prints, and textures. In other words, I learned about the joyful world of "sustainable maximalism".
Last summer, I thrifted a floral bed sheet that I wanted to transform, or "thrift flip", into clothing. I read somewhere that pants were easiest to experiment with, so I had a creative vision. My floral pants would be bold. These would be the floral pants my high school self deserved.
Today, a thrifted floral bed sheet. Tomorrow, a pair of flower power pants.
With this bedsheet and the knowledge that I could create a sustainable maximalist wardrobe, I decided to invest in a sewing machine. 
The more I continue to learn about sustainable fashion, the more I appreciate the labor that goes into our clothes. In exploring my curiosity around needlework, like mending, I was gathering the courage to start my own sewing projects.
A few months ago, my sewing machine arrived at my doorstep.
But, here's the kicker: it sat untouched for months. 
Honestly, I was scared. I was scared of messing up. I was terrified of what people would think if I posted anything about it. I realized that I had to reflect on my relationship with sewing and deconstruct the narrative I'd built in my head around it.
Sewing Lesson One: it's a craft that holds comfort, power, and history all at once.
In the last year, many of us have taken up some form of textile craft: sewing, embroidery, needlepoint, crocheting, knitting, macramé, and weaving. Staying at home has allowed us to try new things. And the need for face coverings gave people a potential project.
For my birthday last year, my friend dropped off a reversible face mask sewn from fabric she thrifted with me.
In 2020, sewing reusable face masks was a way to protect your neighbor, friend, or family.
As more people got into it, sewing became a way to participate in slow fashion. Sewing isn't just for the faded world of Jane Austen and Bridgerton. It's practical. It's accessible. It's comforting. More importantly, sewing is part of a bigger story.
Sewing has been and is some women's avenue to achieve financial autonomy. What they make brings meals to the table, sends kids to school, and jumpstarts small businesses.
For Lakme Fashion Week in 2019, award-winning designer Rohit Bal collaborated with a sustainable fashion label to spotlight the embroidery work of Kashmiri women. Writer Saonli Hazra points out that through the collection "the women not only reshaped their lives in volatile Kashmir, but in the process they were able to carve an identity of their own."
That sewing can empower those who hold the needle is true across fashion. An ocean and years away from Lakme Fashion Week—2007 in the Philippines, to be exact—a group of social entrepreneurs met women and mothers in Payatas who had been weaving foot rugs out of scrap fabric.
This led to us—Rags2Riches, or R2R—a partnership that continues to this day and empowers artisans across the Philippines to weave joyful bags, home accessories, and most recently, clothing. The signature Rags2Riches weave is a blend of artisan tradition and innovation that's created years of livelihood for Filipino craftspeople. 
Reading about the Kashimiri women and R2R artisans prompts me to take a step back and think about my own story. Was there another way to mend my confidence toward sewing?
Sustainable fashion requires us to learn, unlearn, and relearn. 
My dad taught me how to sew when I was around eight. As a child, his knowledge mystified me. I remember asking him how he knew how to sew if he was a boy. (Why yes, that's what you call internalized sexism!)
He patiently told me that sewing is a life skill. It was important to know and it was power.
I wanted to feel that again: "the power in my hands." But I haven't sewn since high school. I had this misconception that: a) sewing was old-fashioned and b) since it was old-fashioned, surely it couldn't be a symbol for feminism. 
When I remember this mindset, I cringe. I'd absorbed Western media and its patriarchal notions that branded sewing and fashion as feminine and domestic (therefore, somehow lacking in value). Because of this limited perspective, it took me a long time to realize that sewing machines are not historic symbols of oppression but active tools in livelihood, sustainability, and resistance.
Photo by Maria Krasnova
Sewing is a way to resist the mindset that what we absolutely need can only be bought. After all, "the most sustainable garment is the one already in your wardrobe." When we mend or sew our own clothes, we extend the life cycle of our garments. This keeps the material away from landfills.
Through sewing, we slow fashion down, an industry that has been shaped by colonialism and consumerism. 
Sustainable fashion through sewing is also about community and intentionality.
Sewing takes a lot of skill to do well.
In the last few months, I've needed to ask my friend how her sewing machine works. I've asked my dad and grandmothers how they mend their clothing. I've compiled a mental file of where they get their materials.
At first, I was ashamed. Asking for help can be hard. But I have felt less alone. There are plenty of tutorials, threads (whoops, a pun!), and groups online where women learn how to sew, weave, knit, and embroider. They thrive together.
Clearly, this isn't new. South African-Malawian artist Billie Zangewa talks about how the women she grew up around would sew together to find healing. Their community and handiwork affected the daily lives of themselves and their families. In Zangewa's work, she uses fabric to stitch tapestries that reflect our very human complexities and the small, intimate moments of our lives.
Sewing transforms and weaves us together. It can create joyful connections, the nuance often so intricate and seamless (the puns can't be  stopped) that it may go unseen. Zangewa tells The Cut that:
"Fabric, this thing we all have a daily relationship with, is often dismissed by the world as mundane and unimportant, much like the daily, mundane work that women do to keep a home, a community and a society going."
But we don't have to dismiss it anymore. The fabric and faces behind the fabric are vital.
If we're going to make a change, we have to start somewhere.
For my godson's first birthday, I bought a red sweater and sewed the letters of Winnie the Pooh across the middle. I was determined to make it a tradition.
I am that Ninang who will dote on you with handmade gifts.
Spoiler alert: it has not become a tradition. Yet. I still run away from the possibility of failure. But I'm working on it. 
I am learning to be okay with starting small. Maybe I'll mend my curtains first. Maybe I'll mend my sweater.
Understanding my relationship with sewing and discovering how the craft has changed women's lives all over the world, in both concrete and imperceptible ways, has reminded me that there really is power in my tiny brown hands. 
Like any craft, this will take time. 
But there are plenty of resources out there and many powerful women (particularly other women of color) to guide my way. I live with some of them! I am learning to be okay with asking for their help and learning from them.
So, yeah, I bought a sewing machine. But change still isn't easy. I have a lot of work to do. I hope you can root for me as I finally fall into it. I hope you're inspired to join me.
Finding ways to live with intention and dress with more joy?
Subscribe to our newsletter for stories and offers to help you build a sustainable maximalist wardrobe.
---
Mikaela Lucido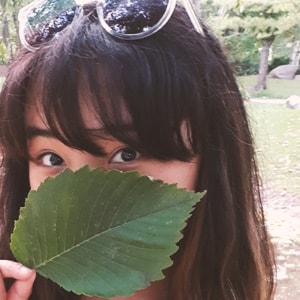 Mikaela Lucido was born in Manila, Philippines and lives in Mississauga. She studied Creative Writing & Publishing at Sheridan College. Her work has been featured in Savant-Garde Literary Magazine, post ghost press, Gothic Tales of Haunted Futures, and Augur Magazine. She is a first reader for Savant-Garde Literary Magazine. Find her on Twitter (@LucidoMikaela) where she is often live-tweeting about Taylor Swift, superheroes, or mental health.